In the beginning of 2016 BPro Gaming started officially with a team specializing in CS:GO. As it is with every beginning we also had our moments of difficulties, but together with the help and support of the managers and creators of BPro managed to move ahead with the building of our team. During the past year our organization broadened its activity by adding new players and forming two new teams to play with League of Legends and World of Tanks.
As we are about to leave 2016 we would like to express our gratitude to all players who took part and contributed to the development of the team.
For this matter our special thanks go to the following players:
Nikolay "Niki1" Pantaleev
Teodor "Psycho" Dimov
Nikola "NK4Y" Radushev
Valentin "Xek" Dinev
Ivan 'Rock1nG' Stratiev
Teodor 'Spellan' Nikolov
Anton 'AFFICHKO' Kolev
Emiliyan 'spyleadeR' Dimitrov
Nikolay 'nkl' Krastev
Simeon 'dream3r' Ganev
The performance of the CS:GO team had its ups and downs throughout the year. Here below is a list with some of the best achieved results in 2016.
3rd ESL South East Europe Championship Season 3
1st Balkan Championship Season 3
1st ESEA Season 22: Intermediate Division – Europe
3-4th ESL Major League Summer 2016
1st Gplay.bg CS:GO Invitational
1st Let's Play @ Aniventure 2016
1st WESG 2016 – South-Eastern Europe Qualifier
13-16th WESG 2016 European Finals
17-24th ESWC 2016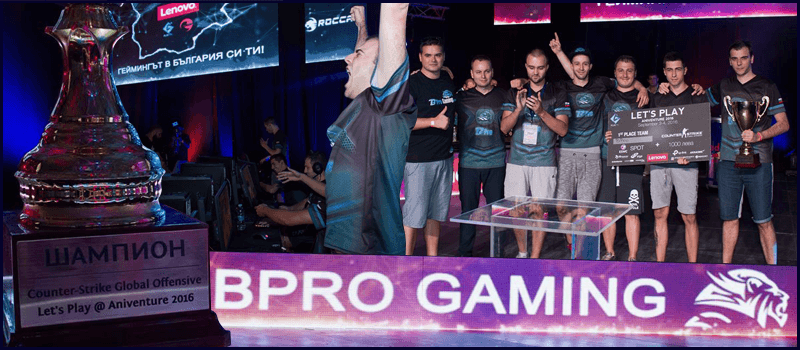 Due to its good performance on the international gaming stage the team qualified to participate at Lan finals WESG 2016(World Electronic Sports Games), where our boys took their chances against the teams of Virtus.pro, Guerilla Method, Team .Norway and Team .Russia. Despite some unexpected situations and change of players, the team sustained their deep concentration on the game and after the victory in Let's Play @ Aniventure 2016 in September qualified for ESWC (Electronic Sports World Cup) 2016. At this event our competitors were the teams of Gambit Gaming, Norse and GODSENT Academy. Just before the end of the year our team managed to gain first place in the regular season of CEVO Main for the season with personal record of 15/1 (wins/loses), which secured a place for the play-offs in 2017.
The other two teams League of Legends and World of Tanks are also gaining more and more popularity and higher scores and results.
The first appearance of our team for the new year will be in January in a show called Beat the Pro: Play against BPro by Acer Predator – the idea behind this event is you our fans to take your chances against the players from BPro. More information about this forthcoming event will be announced after the holidays on the official pages of the team in Facebook and Twitter. Also to build possibly the best teams which will be able to play and compete at top level at the Bulgarian and world stage is a primary aim for our organization for the new year.
With this we would like to express our thanks to all of you – our fans for your support and we hope that it will remain in this way in the new year.
Thank you!!!