OFFICIAL STATEMENT
FROM BPRO GAMING
TO THE ORGANIZERS OF THE ADRIA MASTERS TOURNAMENT – EFRAG
Let us start with a foreword of what BPro stands as an esport organization and as a team.
BPro Gaming was established in 2015 after a serious analysis of the different esport players in Bulgaria, especially in the field of Counter-Strike: Global Offensive. The owners are former professional competitors in the field of Counter-Strike and our only mission is to develop the talent of all the players in our organization. We do not purchase ready-made teams, we do not use them – we create them.
This is our third CS:GO roster, with different player changes. You can see the transitions on Liquipedia and on HLTV.
Over time, we have proved ourselves as regional champions.
We have also improved our results, achieving 39th place on HLTV with niki1, xek, psycho, NK4Y, AFFICHKO and 48th place with SHiPZ on the team. We have proved ourselves as National champions, ESL SEC Champions, Balkan League Champions, WESG Regional champions, ESWC Paris Q Champions. We have developed and supported many teams, while always aiming to be founders of professional demeanor.
Regarding the AdriaMasters event:
Being invited to the event, we had to really consider our attendance.
As an organization, Efrag have a poor reputation in the Counter-Strike community – starting from failure to proceed with payments from their tournaments to unprofessional behaviour towards attendees at their events.
After careful consideration and fully acknowledging that the prize fund might not be paid, or even so – it would not cover the costs of our bootcamp preparation and travel expenses, we found 2 reasons to attend:
The need to attend more LAN events to gain more ranking points

To hopefully prove ourselves once more on a regional level
Arriving at the venue the night before the event we discovered that it was far from ready. At that moment we did offer to lend a hand to the organizers, but they refused our help.
In the morning we were welcomed to filthy desks, chairs with no armrests (except for two), litter and general chaos. We had to start warming up at 09:10, because the event was set to start at 10:00.
This video is recorded at 09:45 – 15 minutes before default start of the match in HLTV.org:

Having experience with different types of events, we know the difficulties some organizers face when trying to be punctual – that's why we did our best to help them with the setup.
The provided desks for the main stage were "provided" with holes for, what we presume – cable management. Alas, with this positioning they were not helpful – on the contrary – they stood in the place where the mouse and pad would be positioned. We tried to use tape and other methods to fill them up, but to no avail – the players' mice would sink in the holes.
Here we would like to underline that everything we did was not only to help the organizers but to also make the situation better for all the players at the event.
Turning on the computers we saw several problems – antivirus software and logged in steam accounts of quite a few famous players. We logged off from every steam account, saving 7 people the trouble of retrieving a possibly stolen account and/or expensive items – to say the least.
The thing that shocked us the most were the provided monitors for the event. Communicating with the organizers (only via Skype and Facebook – we had no official e-mail correspondence) prior the tournament they promised us ASUS vg248qe 144hz monitors.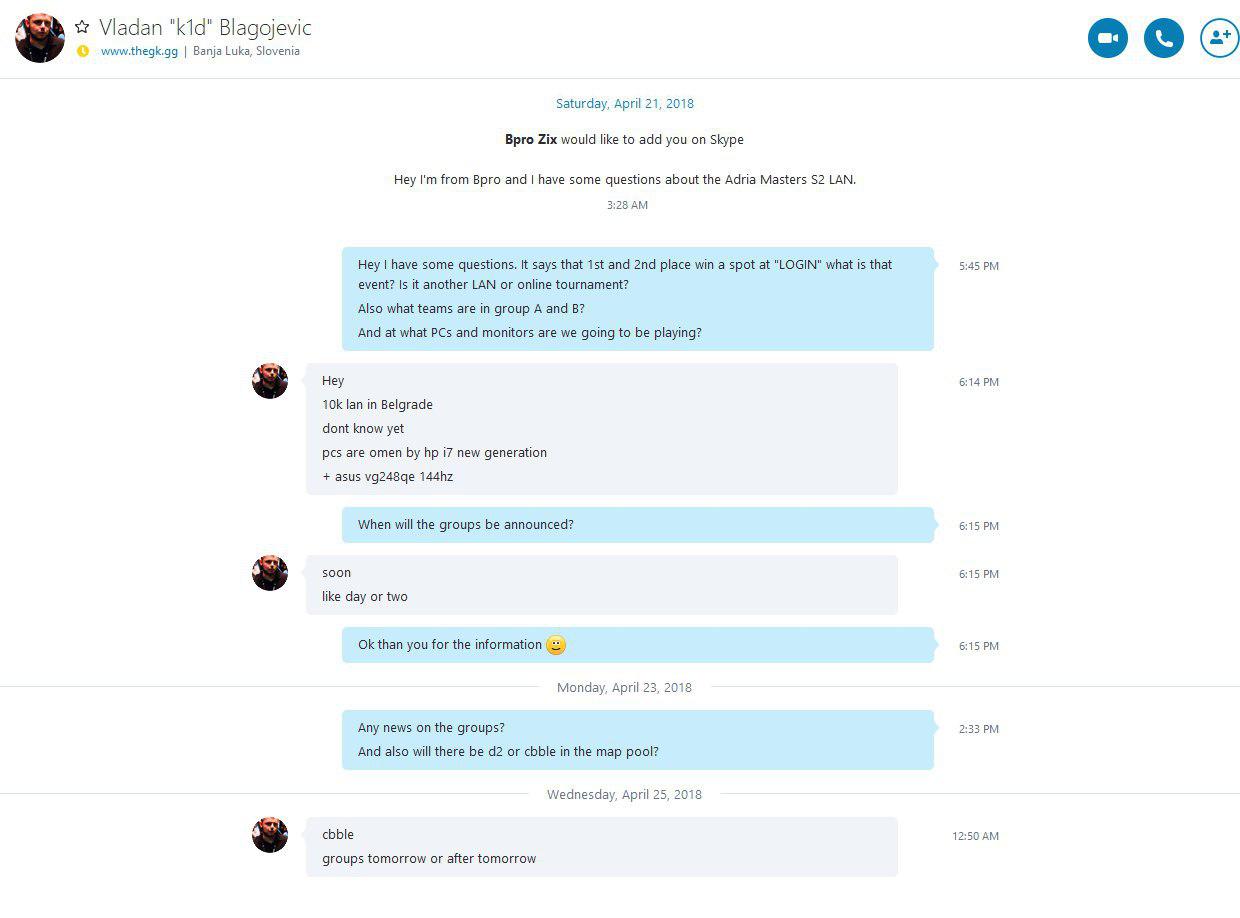 The monitors provided were 60hz refresh rate Omen by HP. When we asked the organizers what happened and why there are no 144hz monitors for an FPS tournament, they informed us that as General Sponsors, HP have told them in the last moment that no other monitor will be used on the main stage, besides their Omen by HP monitors.
At the venue we met with a representative from HP, who said that the organizes from Efrag have been informed for a very long time about the monitor situation.
At the start of the tournament we were not provided with noise-cancelling headphones. Moreover the organizers gave questionable Samsung handsfree earplugs without а microphone to our IGL – Yanko "Blocker" Panov. We received three sets of earmuffs – one for REDSTAR, one for Blocker and one for our team manager – JoSeKi. Everyone else used their own headphones.
Blocker had to type out his calls as an IGL, since the microphone on the provided earplugs did not work and he could not communicate with his team on TeamSpeak. After several rounds like this we needed a Technical pause to resolve the problem.
As we stated above – except for REDSTAR and Blocker – all other players used their own headphones. Because of that – both teams could hear clearly what the commentators were saying.
And last but not least – there wasn't an admin on stage. Not an admin as in the real meaning of the word – a representative of the organizers who is there to monitor the match and to make sure everything is running smoothly and according to the rules of the tournament.
(Important note – the organizers did not provide and rules for the event).
After finishing the day with 2 victories against GamePub and KliKTech we were told that we should arrive at 09:00 the next morning for the final. When we arrived at the hotel in the evening we received a Skype message, which stated that we are "cheaters".
Moreover, the "official statement" for our disqualification was posted on the Facebook page of CS:GO Srbija 5 minutes after the post of Mladen 'juricM' Jurić, who accuses Krasen 'Zix' Minchev of cheating.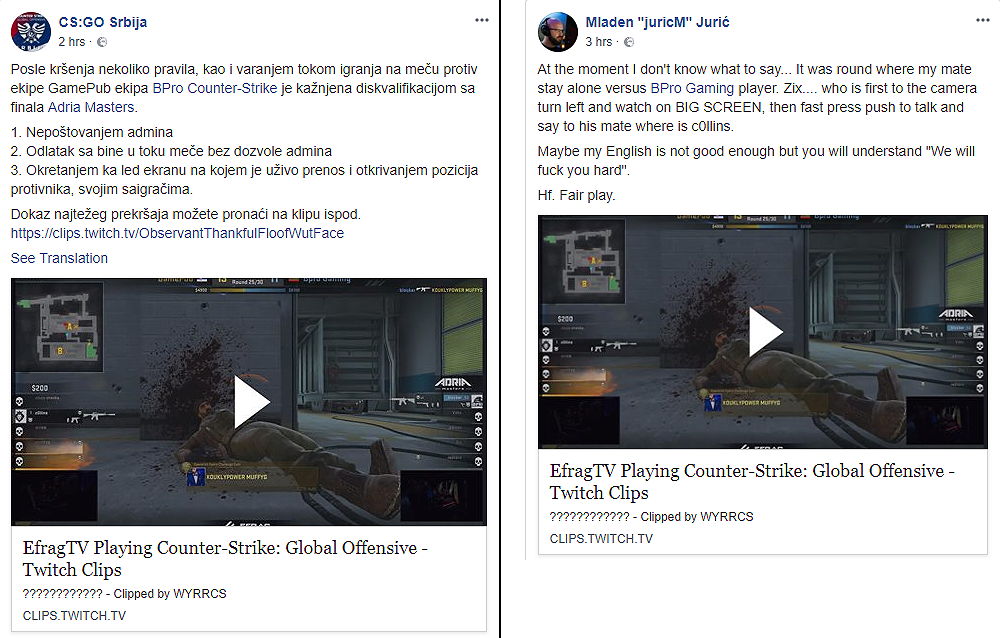 13 minutes after Juric's post and 7 minutes after CS:GO Serbia's "official statement" we were informed by the organizers of our disqualification.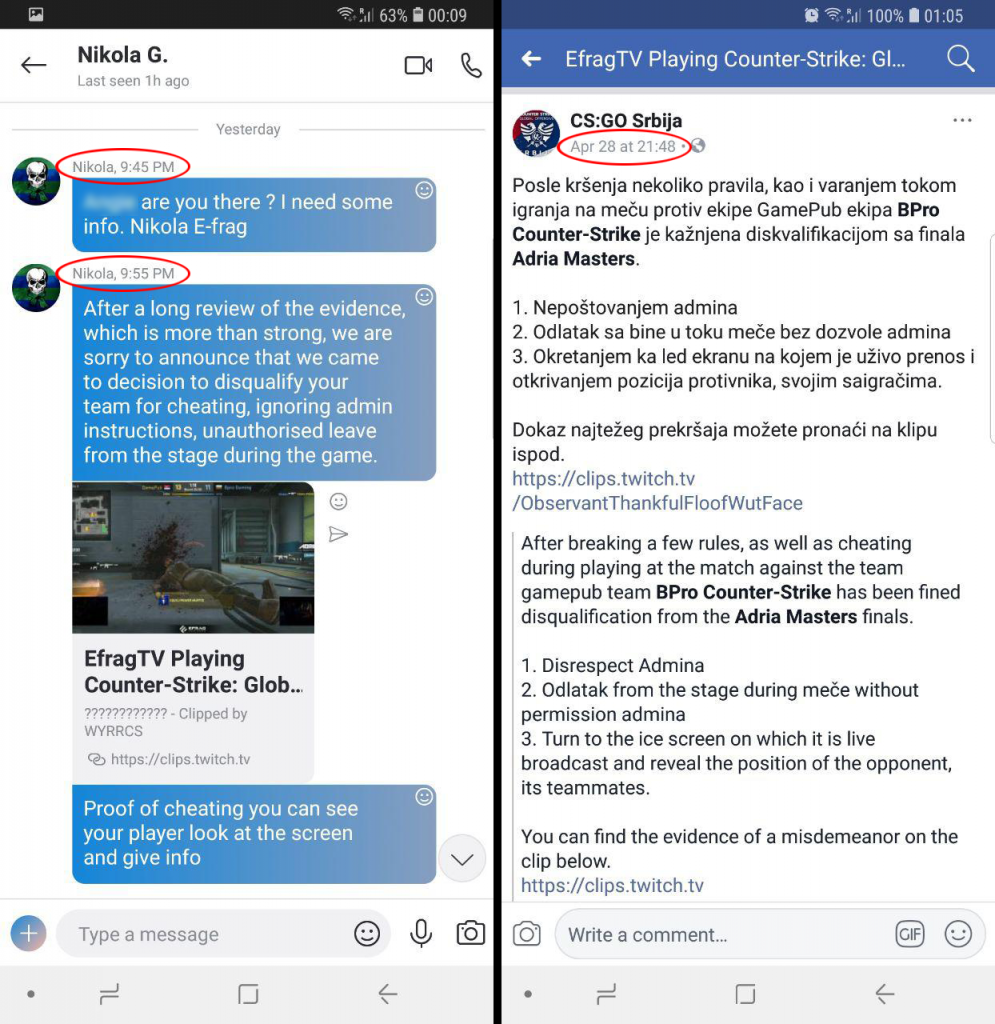 Unprofessional is only a slight statement, since it was not shared on the official communication channels for the event – this leads us to believe that there is a single person, who independently takes such decisions before contacting any of the sides affected.
Reguarding the "official statement" posted on CS:GO Srbija, which stated the following:
Disrespecting the administrator

Getting off from the stage during the match without a permission from the administrator

Turning to the screen during the live broadcast to reveal the position of the opponent to their team.
On the first point – nobody from our team and our organization has been rude or disrespectful towards any of the organizers of the event.
Secondly – as we stated above – there were no noise-cancelling headsets provided. In the absence of any administrators or technical support – our manager JoSeKi had to take care of the problem – finding a headset at round 8.
Third of all – if you pay attention to the situation there is no connection between Zix turning around to JoSeKi (who was behind him) and Blocker's play. Vnko is the player who gives info to our captain in this situation.
Blocker was heading towards c0llins long before Zix turned around, let alone pushing any of the keys on his keyboard.
After the "official statement" was published JoSeKi reached out to Marko Milosevic over the telephone. Over the call he declared that he was not interested in our comments and that the decision was made. Milosevic also clearly stated that any player who had turned to the screen, even slightly, would be disqualified. Moreover, he was incredibly sure that there is no other player who has turned to the screen.
As mentioned above – we requested to see the official rules of the event and tournament, as well as clear information when and how we have violated them. Milosevic has promised to send us a link to google drive with the whole documentation, but to this day – we have not received anything.
This erroneous "statement" leading to our disqualification has not only financial, but moral damages to our organization.
As mentioned above, we were fully aware that the prize money might not be paid out, taking into account the organizer's reputation. Furthermore, we sincerely believe that if it was not us, they would have treated any other team facing GamePub to further their agenda.
We believe that no tournament organizer should treat any team and any organization in this manner, especially when there is no proof of wrongdoing.
BPro post about same players @eArenaPlovdiv – http://bprogaming.com/the-squared-esports-team/
https://www.hltv.org/matches/2322389/gamepub-vs-bpro-adria-masters-season-2-road-to-login – Link match vs GamePub
https://www.hltv.org/matches/2322391/kliktech-vs-bpro-adria-masters-season-2-road-to-login – Link match vs  KlikTech
https://www.hltv.org/events/3731/adria-masters-season-2-road-to-login – Link to the tournament
(EN) AdriaMasters S2 – Road to LOGIN | GamePub vs. Bpro – (BO1) Group Stage – https://www.twitch.tv/videos/255333155 – Official Record
(EN) AdriaMasters S2 – Road to LOGIN | Bpro vs. KlikTech – (BO1) Group Stage – https://www.twitch.tv/videos/255413923 – Official Record
https://clips.twitch.tv/ObservantThankfulFloofWutFace – We were disqualified because of this video.
CS:GO Srbija FB post – https://www.facebook.com/srbijacsgo/posts/1637639119646733
Mladen "juricM" Juric FB post – https://www.facebook.com/grsjuricM/posts/2088882871392970