BPro Gaming have come out victorious from ESEA Advanced Season 28 Europe, following a 2-0 victory over team Unknown in 5th place decider match for the last spot in MDL Relegation. (Cache 16-11, Nuke 16-13).
The ESEA 5th place decider match kicked off on BPro map pick, Cache. After loosing the first pistol as Terrorist's, BPro responded with three successful rounds bringing the score 3:1. However, both teams exchanged rounds which eventually led to a result 9:6 for BPro. The second part was no different, a second lost pistol round lead to a 9:9 score.  However, the boys managed to win the next six rounds which was enough to win the map 16:11.
Next up was Nuke, team Unknown's map pick, which began with the Denmarks bagging a 2-0 score as Terrorists.  In the first gun round, BPro managed to kill everyone, which led to a 3:2 turnaround in their favor. Unknown managed to get a few more rounds before BPro closed the half with a score of 8:7. The first won pistol round for BPro in the match was more than enough to allow the team to keep a difference in the rounds until the end of the match. BPro went on to reach match point, where they eventually went on to secure the 16-13 victory and the 2-0 series to book their spot in the ESEA MDL Relegation.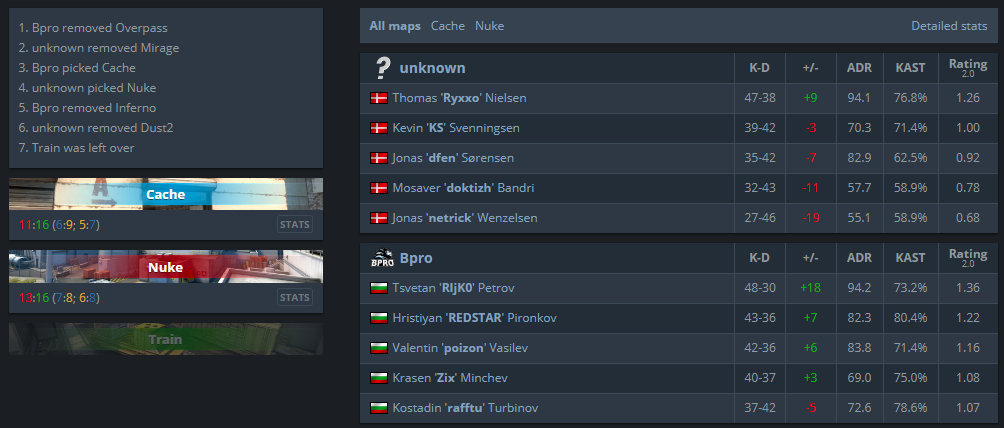 Both maps were very difficult, but we managed to win the game and to qualify for ESEA MDL Relegation.
---
BPro
Tsvetan 'RIjK0' Petrov
Hristiyan 'REDSTAR' Pironkov
Valentin 'poizon' Vasilev
Krasen 'Zix' Minchev
Kostadin 'rafftu' Turbinov