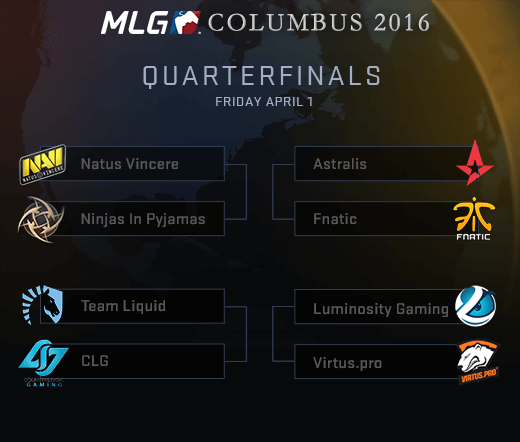 The first match of day three at MLG Columbus 2016 was between NiP and mousesports as they met in a best-of-three series. mousesports lost to Luminosity in their opening match but managed to eliminate FlipSid3 while NiP picked up their first match against FlipSid3 and went on to lose to Luminosity in the winners' match.
Ninjas in Pyjamas took down mousesports 2-1 in the decider match of Group A in Columbus to reach the quarter finals (16-5 on de_cbble and 12-16 on de_cache, 16-9 on de_overpass).
Fnatic are through to the quarter-finals of MLG Columbus after defeating FaZe 2-0 (16-10 on Mirage and 16-6 on Cobblestone).
The series kicked off on Mirage, where fnatic got off to a flying start, winning the pistol round without dropping a single player and following it up with seven more rounds to get out to an impressive 8-0 lead. FaZe then finally replied and picked up three rounds in a row thanks to some crucial opening kills inside A. The rest of the half was highly contested as rounds went back and forth, with fnatic taking a 10-5 lead to the break. Fnatic picked up where they left off and took the pistol round as Terrorist with an A push, with Freddy "KRIMZ" Johansson getting three kills to his name. After also dropping both eco rounds, FaZe were able to hit back in the opening gun round, only to have their economy reset in the following round as Jesper "JW" Wecksell pulled off a 1vs2 clutch with the bomb planted.
The Swedes would go on to bring it to map point, but FaZe rallied back on a force buy to keep themselves in the game. The former G2 side would be able to bring the scoreline to 10-15 but then they got caught out by fnatic in a Desert Eagle push.
CLG are the second North American team to make it to playoffs at the first North American major following a 2-1 victory over Gambit (de_cache 13-16, de_cbble 16-11, de_mirage 16-10).
Group C's decider saw CLG and Gambit start on the latter's pick, Cache, where the CIS-based squad won the pistol by an A split. After surviving the following anti-forcebuy, they fell to a nearly clean eco however, before Dmitry "hooch" Bogdanov clutched a 1-on-3 to claw it to 3-1. The next four rounds went CLG's way, starting with a forcebuy victory, as well as good movement from Tarik "tarik" Celik in one of the gunrounds. Bogdanov then stepped up to the plate again with a triple in a blink of an eye, which set off a streak of their own.
The final match of the day pitted Virtus.pro and G2, two teams who had faced each other on Tuesday, during the first round of the group stage. Kicking off the series was Train, the exact same map where the Polish team had slaughtered the Frenchmen, but this time around it was a closer affair, even though the outcome would still be the same. Virtus.pro got off on the right foot in the game and strolled to a 3-0 lead after winning the pistol round thanks to Filip "NEO" Kubski's four frags. After buying up, G2's defense came to life and they equalised the score at 3-3, but Virtus.pro went on another great run and restored a three-round lead.
Virtus.pro have secured the last place in the MLG Columbus playoffs after seeing off G2 by a 2-1 scoreline (16-9 on Train, 9-16 on Inferno and 16-7 on Cobblestone).
Source: HLTV.org