MLG Columbus 2016 will be the eighth CS:GO Major and the first to offer a gargantuan $1 million prize-pool: this is the official preview for Group D of the tournament.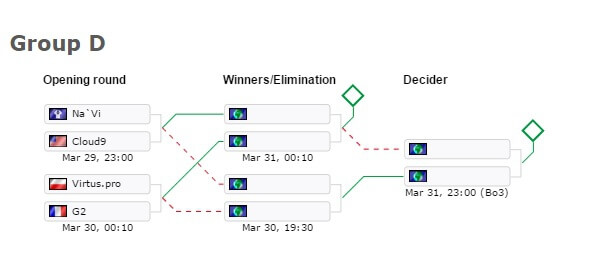 We will now talk about the four teams competing in Group D of MLG Columbus 2016 starting from the first team in the bracket shown above and moving downwards.

After winning the Counter Pit Season 2 finals, Natus Vincere are a legitimate contender for the trophy and are currently our second best ranked team in the world.
The event in Croatia was yet again the Ladislav "GuardiaN" Kovács show, with the Slovakian star going a formidable 1.39 rating and +76 kdd. Many know that when Kovács can be activated on a map in conjunction with his teammates, particularly Egor "flamie" Vasilyev, then it is almost worth it to call an early "gg" for other teams.
Other offline achievements in 2016 include a semifinals finish at IEM Katowice (losing 0-2 to archrivals Luminosity), winning DreamHack ZOWIE Open Leipzig over the Brazilians, and losing the StarSeries XIV finals to fnatic.
After their appearance in the finals of the last Major in Cluj-Napoca, and with the current streak of impressive finishes, Natus Vincere may finally take a stab at winning a Major this time around.
There are still a few long-lasting weaknesses in the team that could be their downfall: taking away calling responsibilities from Danylo "Zeus" Teslenko and splitting them with coach Sergey "starix" Ischuk has been essential to keeping this temperamental team stable but there are still clear moments of frustration that can break through and lead to a losing mentality.
In addition, if Kovács or Vasilyev happen to disappear from a playoffs game, players such as Ioann "Edward" Sukhariev and Denis "seized" Kostin have not always been able to step up in turn.
The two teams whom Natus Vincere must conquer to attain the summit of CS:GO are their rivals of semifinals and finals of this year: fnatic and Luminosity. While a lucky bracket draw may minimise the risk of taking on these titans, a deep playoff run and Major victory would be so much sweeter for Teslenko & co. if it included beating these two.

Easily the most obsessed over, critiqued, worshipped, and reviled team in CS:GO (the split in views among community members is perhaps as bitter as the Sunni/Shi'a divide by this point), Cloud9 will head into this Major as the current highest ranked North American team outside of their Brazilian brethren.
In terms of tactical preparation, the team indicated in our interview that they had brought in Mike "shroud" Grzesiek's old Manajuma teammate Andrew "Irukandji" Timmerman as a trial coach and have been so far pleased with the results as well as making use of an analyst team (which many teams now do either overtly or covertly) to get more serious from a strategic aspect.
The reason this piece of news is important is that Cloud9's early offline showings this year, at the Game Show GEC Finals and at the MLG Main Qualifier, had revealed a star-packed team with a powerful CT-side yet who often crumbled on their T-sides due to Jordan "n0thing" Gilbert taking on a new role as a team caller.
Clearly something has changed within the Cloud9 camp as the team are consistently winning games in their region, including a 12-4 record in the ESL Pro League and winning the iBUYPOWER Spring Invitational over Liquid, and seem to be much more comfortable playing as a unit since picking up youngster Jake "Stewie2K" Yip.
If given the proper training regimen, explosive players such as Yip, Ryan "freakazoid" Abadir, and Grzesiek (with the former two improving in recent games and the latter returning to a carry status at times) could theoretically contend with Natus Vincere in a toe-to-toe game of firepower. Tyler "Skadoodle" Latham, who fell off in form a few weeks back and seemed to neglect certain AWP angles, has also returned to a finer form in the past few matches.
Whether they win or lose the opener to Na`Vi, exit during the group stages, or move on to the playoffs, Cloud9 can be sure that the spotlight will continue to be on their players no matter the outcome. As some of the players have personally learned, its rays can be alternatively positive or painful.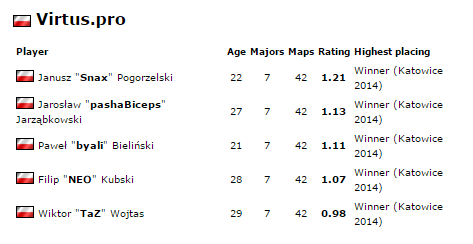 Although things look very very bad for Virtus.pro as of late, the Polish team did ease the pain of their fans slightly at the Counter Pit Season 2 finals where, after defeating Australian Immunity in an admittedly closer-than-comfortable series, they took Na`Vi to two close maps in the semifinals before dropping out.
However, the current weak link of the team in Jarosław "pashaBiceps" Jarząbkowski continued to deliver underwhelming performances in Croatia for his team, and was the second worst player at the event with a .72 rating and -32 kdd.
It's not clear if Jarząbkowski is going through a prolonged slump or on his way to the retirement home, however Virtus.pro need to have him activated if they want to stand any sort of chance leaving Group D.
We have already mentioned the team's almost painful ESL Pro League record (2-14) and other results in 2016 such as a group stage exit in Leipzig and a quarter-finals demolition thanks to fnatic at IEM Katowice with a home crowd cheering them on.
Perhaps one piece of consoling news for the opener is that the Poles have always played well against the Titan/ex-Titan/G2 bunch (including winning their group stage winners match against the Frenchmen at the last Major) and even with Jarząbkowski lagging behind, the powerplays of Janusz "Snax" Pogorzelski (who is after all the second best rated player at Majors) and Filip "NEO" Kubski may be enough to carry this team forward.
However, with Paweł "byali" Bieliński also not having the best form of his life and Wiktor "TaZ" Wojtas somewhat limping along, the potential of this former elite outfit exiting in the groups is very much a reality (though they continue to have an intangible edge against the likes of Cloud9).
Don't say you weren't warned, Polish bettors: the red flags have been there ever since Cluj-Napoca and San Jose.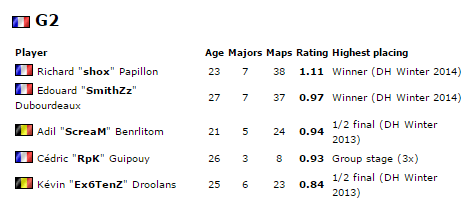 In a time of a few elite teams dominating the top perches of tournaments, and erstwhile giants having fallen down to earth, this is an ode to a team whose growth and improvement in the past few weeks have been determined, gradual, and on an upward track.
Earlier in the year, G2 played as ex-Titan and finished 7-8th place at the StarSeries XIV finals. The French-Belgian team were then signed by G2 and attended Game Show finals and ESL Barcelona Invitational, where they finished 5-6th and 3rd place respectively.
At the MLG Main Qualifier meanwhile, they edged out two #11-20 ranked teams in FlipSid3 and Tempo Storm to qualify for the Major in two best-of-ones. In that event it was surprisingly Cédric "RpK" Guipouy who played best for the team, followed by the usually solid and talented Richard "shox" Papillon.
G2 are winning most of their online matches as of late and are also an impressive 12-6 in the ESL Pro League. We have also seen a notable uptick in form from Kévin "Ex6TenZ" Droolans and Guipouy in recent games—the two players who had struggled the most with CS:GO.
If G2 continue on the upward slope that they have currently set, then a de rigueur victory against the Poles in the opener should be expected, particularly if Papillon can lead the charge for his team.
On the other hand, when it comes to Droolans' teams and attending Majors in CS:GO, it sometimes truly does feel like the Belgian leader has some sort of hex put on him that leads to his teams crumbling in the group stage games and not making playoffs (at least since EMS One Katowice 2014). Columbus could be a chance to placate the angry spirits and shake off the curse.
All four groups will have their opening rounds play out on March 29th, the first day of the Major and you can revisit any of the previews or other Major news via our news page for the event here.
In addition, we will be releasing a series of interviews with many of the attending teams, with four having already gone live: one with Joakim "jkaem" Myrbostad of FaZe, one with Jonathan "EliGE" Jablonowski of Liquid, one with the Cloud9 team, and one with Robin "flusha" Rönnquist of fnatic.
As the magic dates of March 29-April 3 draw ever nearer, stay focused to our site for more exclusive coverage of the upcoming Major.
Source: stich HLTV.org