MLG Columbus 2016 will be the eighth CS:GO Major and the first to offer a gargantuan $1 million prize-pool: this is the official preview for Group C of the tournament.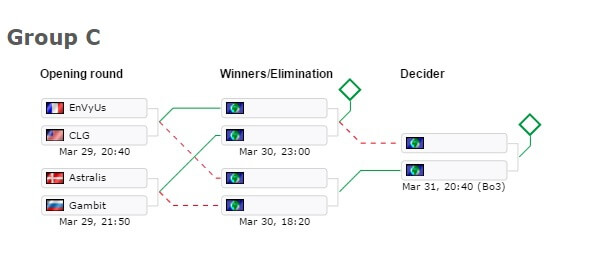 We will now talk about the four teams competing in Group C of MLG Columbus 2016 starting from the first team in the bracket shown above and moving downwards.

EnVyUs are currently ranked fifth in our Global Ranking and are also coming into MLG Columbus as the defending Major champions after winning DreamHack Open Cluj-Napoca.
From the above sentence, an outsider would infer that the French team have a pretty good chance of pulling off a deep tournament run. The skill is certainly there: all five players have a rudimentary grasp of how to punish more timid and less practiced teams, especially the sort found below them in the rankings.
However, everyone by now knows of the team's infamous breakdown at IEM Katowice, where they even lost to E-frag.net and finished 1-4 in their group and exited the tournament in 11-12th place alongside TheMongolz.
Since the team have already been observed to be struggling (only winning sporadic events such as the Game Show finals) in 2016, many observers quickly narrowed in on Fabien "kioShiMa" Fiey, whose performance had dropped off considerably. The team evidently had similar sentiments as Fiey was promptly dismissed and the Boys in Blue signed Timothée "DEVIL" Démolon of LDLC White shortly afterwards.
However, even current leader Nathan "NBK-" Schmitt's interviews after Katowice had indicated that there was a wider malaise afoot in the team, the sort of toxic ennui that previous supremacy, elite tier status, and long competitive downtime can instill in players and kill off motivation.
Waking up from such a stupor takes more than a roster change and this was evinced with nV's upset loss to NRG at the Counter Pit Season 2 finals, where the German-Serbian-American team nine-percented their way to victory in a best-of-three to knock Vincent "Happy" Schopenhauer and crew out of the tournament.
There is a wider tendency in the scene to view written critique as actual disparagement, and in an industry as financially illiquid and fickle as the esports one (where information can make or break income flows), too much ribbing can lead to a wider notion of failure and to eventual "memes," e.g. the NA scene.
It should therefore be clear that despite nV's recent setbacks, they are still widely expected to persevere in this group. There have been close games against CLG in the past which could lead to a spicy opener and EnVyUs did also most recently lose a game to Astralis in Katowice, yet taking top in the group remains very feasible for Schmitt and his men.
If they should exit in the groups however, then maybe it will become more acceptable to compare the team to a drug dealer in high school or some other salacious figure and then expect incoming online flak.

Early 2016 has been a time of a threefold scramble in North America among the region's top competitors to attain supremacy, namely Liquid, CLG, and Cloud9.
If we were to parse the team's ESL Pro League records, then CLG would be the outfit that looks to be in the worst shape with a 3-9 record compared to Liquid's 6-6 and Cloud9's 12-4.
On the other hand, CLG have always been the more consistent offline team than their brethren as close games against the likes of Natus Vincere in Major decider matches and a fourth place finish at the Game Show finals come to mind.
In terms of players, while Josh "jdm64" Marzano appeared to be the one going hard carry mode in early 2016, recent events such as the MLG Main Qualifier have seen Tarik "tarik" Celik reinstate himself at the top of the team's fragging pyramid.
Another often unsung hero of the team is Stephen "reltuC" Cutler, who has become an extremely consistent player for his team (his performance may dip into the red but it is never severe) and who can perform a plurality of roles from calling to anchoring a site (holding it) to being a support on the team's T-side.
As mentioned in the EnVyUs section, CLG are no stranger to games against the Frenchmen and have taken maps off of the team before (twice on de_overpass at the Game Show finals) and depending on the map pick-bans and the ability of the team's fraggers to deliver, we could be in for a North American treat, high fructose corn syrup included.
Things have been looking up for Astralis recently and not only because the team managed to make a grand final at the Counter Pit Season 2 finals (which they lost 1-2 to Na`Vi in the end).
In our preview for the Counter Pit S2 finals, it was pointed out that the Danes had quelled some previous mistakes in their playstyle and were improving, with strong showings in the ESL Pro League, at IEM Katowice (losing only in the semifinals to fnatic), and generally moving away from the January-February period where they had struggled mightily against various opponents.
As of now, Finn "karrigan" Andersen and his team are locked in a vicious battle for second place with Natus Vincere, with the Danes having held the distinction last week but which last weekend's grand final at Counter Pit settled in favour of the Eastern Europeans.
A strong showing in a fairly tough Group C would surely kick off a deep Major campaign for the team and another point to keep in mind is that there is a historical correlation between Nicolai "device" Reedtz having an upswing in play and his comrade in "names that start with d" Peter "dupreeh" Rasmussen tagging along.
This statement might sound counter-intuitive, but the real danger here will not be EnVyUs or CLG in subsequent matches but rather the CIS-region Gambit, who prospered off of being discounted and tactically understudied at the Major qualifier to dominate all their opponents. The Danes would do well to have their wits about them.

Gambit proved to be the death of high profile teams such as Cloud9 and Renegades and saw themselves trot-stepping into the Major after two convincing best-of-one victories.
Perhaps remembering the high sex profile of Mihail "Dosia" Stolyarov and his engorged status in the early days of CS:GO (ranked fourth in the world in 2013), teams will surely not underestimate Gambit this time around.
And the team are truly stacked like a tank battalion sitting suspiciously outside of the Donbass region, despite only having two previous Major contenders in Stolyarov and Dauren "AdreN" Kystaubayev (who made their names battling as commissars under HellRaisers and Astana Dragons).
On this roster are also found Jan "wayLander" Rahkonen, a probable descendant of the Finnish White Death according to his offline event history, Rustem "mou" Telepov, a hard-hitting member of the Golden Horde, and Dmitry "hooch" Bogdanov, who is equivalent to a Emil "HeatoN" Christensen in Sweden or Matt "Warden" Dickens in North America as far as his father-figure, veteran status in the CIS region is concerned.
The team have a pretty impressive record of wins outside of the Main Qualifier, although they conspicuously struggled in the DreamHack Masters Malmö qualifier against the current AGG team and HellRaisers as well.
This inconsistency with other European mid-tier teams suggests that Gambit's MLG Qualifier run may have been a bit of a high-mark for the team and that they will not have as much success in an already stacked Group C.
However, with so little on record for this team compared to their three rivals in the group, they continue to be as unpredictable and fearsome as Ivan the Terrible.
All four groups will have their opening rounds play out on March 29th, the first day of the Major, and we will still release a preview for Group D before the big day dawns.
In addition, we will be releasing a series of interviews with many of the attending teams, with two having already gone live: one with Joakim "jkaem" Myrbostad of FaZe and one with Jonathan "EliGE" Jablonowski of Liquid. Another interview with Cloud9 will go live later today.
As the magic dates of March 29-April 3 draw ever nearer, stay focused to our site for more exclusive coverage of the upcoming Major.
Source: stich HLTV.org