MLG Columbus 2016 will be the eighth CS:GO Major and the first to offer a gargantuan $1 million prize-pool, this is the official preview for Group B of the tournament.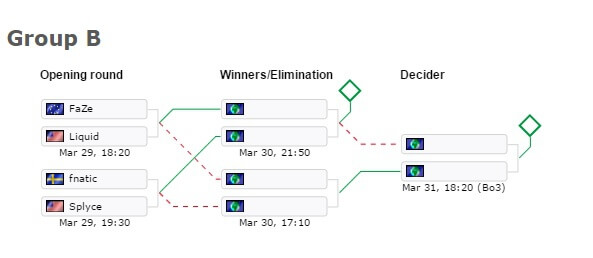 We will now talk about the four teams competing in Group B of MLG Columbus 2016 starting from the first team in the bracket shown above and moving downwards.

Of all eight 'Legends' who made the playoffs of DreamHack Cluj-Napoca, FaZe are currently our lowest ranked at 11th place (one behind NiP in the latest update).
There is ample reasoning for this slide in ranking, since in early November we had Mikail "Maikelele" Bill and his team as high up as seventh, and that fact is due to the team noticeably falling off in form since their semifinal run at the last Major in Cluj.
2016 has been a markedly less impressive year for the European super-team, beginning with a 5-6th place finish at the SLTV StarSeries XIV finals as G2 which was narrowly eked out after defeating Chinese team CyberZen.
The team were then acquired by FaZe and attended DreamHack ZOWIE Open in Leipzig shortly afterwards where they again finished 5-6th place, surprisingly defeating Luminosity in the best-of-one opener but then losing to Natus Vincere and the Brazilians in a best-of-three to bow out of the tournament.
Perhaps sensing they were ailing, the team picked up 1.6 legend Robert "RobbaN" Dahlström as their coach in February and their next and last event before the Major was IEM Katowice. There, they had early successes against E-frag.net and Tempo Storm (defeating the latter team in overtime) before losing all their final games and thus finishing in 7-8th place.
Finally, and even more worryingly, FaZe have been on a prodigious losing spree in the ESL Pro League since Katowice and are seemingly unable to make their current five-man composition work.
For all of the warning signs about a listing vessel, FaZe still pack some of the strongest talent heat on the CS:GO block. In your humble author's opinion, their game against Liquid could be a real seesaw of a match as two relatively volatile teams go toe-to-toe.

As far as offline attendances and results go, Liquid have had an extremely quiet 2016. And yet the team have dominated headlines in ways that would make some other outfits ranked #11-20 simply jealous. Couldst'-a there be a reason?
What such flagrantly offensive puns are referencing are clearly the high profile signings this year of Ukrainian prodigy Aleksandr "s1mple" Kostyliev and ex-Enemy/Selfless AWP wonder-child Kenneth "koosta" Suen.
However, due to the diluted rules put in place by Valve to govern how teams coming up from the Minors could compete in the Major qualifier, Liquid had to attend the event with their old in-game leader Eric "adreN" Hoag, where the often criticised player was a crucial part of the team's qualification campaign.
Kostyliev, on the other hand, tanked in the series against HellRaisers (and overall had one of his only series in the red ever rating-wise) and for once had to experience the feeling of getting carried by his teammates in an offline setting.
Setting aside what very likely was the unimaginable pressure of moving to a new continent and a new culture, playing for a high octane brand team, and getting frequently picked in a do-or-die match, we can only assume that Kostyliev has regained some of his lost confidence and will head into the Major with more poise.
Not being able to play with Suen will hurt the team's firepower, however as we've seen in Liquid's recent online results, the addition of Suen has not necessarily made them the indomitable North American force that some had expected. Hoag may also possibly (though let's not get crazy) play lights out Counter-Strike, knowing full well that with his current TSM lineup it could be quite some time before another Major rolls around.
Whether they win or lose their opener against FaZe, the likeliest outcome in this group is that Liquid will either be disciplined by fnatic in the winners' match or discipline Splyce in turn in the losers' match and head into a best-of-three game against FaZe to decide their fate.

The undisputed kings of Counter-Strike, fnatic have been an undoubtedly polarising team in recent weeks as they have made winning look almost too easy and have claimed the top trophy at every single event they've attended since adding Dennis "dennis" Edman to the roster in late 2015.
The lineup truly does read like a Gold Nova's wet dream: a leader in Robin "flusha" Rönnquist who also has the best rating at the Majors of all players, the world's best player in Olof "olofmeister" Kajbjer, his unflappable Snus-chewing sidekick in Freddy "KRIMZ" Johansson who almost telepathically plays in tandem with Kajbjer, a well-meshed support and factotum in Edman, and finally the inglorious bastard of YOLO plays, AWPer Jesper "JW" Wecksell.
The catalogue is longer than Homer's ships: winning FACEIT Stage 3 Finals at DreamHack Winter, ESL ESEA Pro League Season 2 Finals, StarSeries XIV Finals, ESL Barcelona Invitational, IEM Katowice, and many more Green W's.
There is nary a chink nor a scratch in the team's armour as even Wecksell, who has found himself most out of sync with the Edman era lineup, has not fallen far behind enough to warrant any sort of sustained criticism.
Combining aggressive confidence with calm poise, fnatic have created the current era of CS:GO and there is a high amount of people out there who continue to see them as guaranteed to claim another Major title this time around. If they win: let us now praise famous men.

Poor, poor Splyce. Even before the Canadian-American team have stepped foot in the MLG Arena to play their group stage matches, they have already received a shellacking from many commentators on social media.
If the team's Cinderella run games against CLG and Vexed to qualify for the Major weren't enough of a high, then having to open up their Major campaign against fnatic can't be enough of a low.
Determined not to be the North American version of Wolf at ESL One Cologne 2014 or Bravado at DreamHack Winter 2014, Splyce will need ungodly amounts of preparation to be a challenger in this group, and that's after they already assume they should focus their energies on the second game after very likely losing to fnatic.
There is a glimmer of hope and that is how evenly North American teams can play against each other (which Splyce already showcased against CLG at the Major qualifier) and which could happen if Arya "arya" Hekmat and his men meet Liquid in the losers' game.
However, Splyce have also fallen victim to this phenomenon themselves, recently being stomped by Kyle "OCEAN" O'Brien's ex-AGG/KKona in a best-of-three qualifier for the CEVO Season 9 finals.
Those looking to learn more about this team, who are likely the biggest underdogs of the Major and also the biggest question mark, can find out about roles and relationships in our interview with David "DAVEY" Stafford from the Major qualifier.
Until then, the fate of the weird world rests in these five training their butts off at the eSports Arena in Santa Ana and somehow defeating fnatic in their Group B opener. If that were to happen, it might also be a good time to invest in the Russian Ruble.
All four groups will have their opening rounds play out on March 29th, the first day of the Major, and we will still release previews for Groups C and D before the big day dawns.
In addition, we will be releasing a series of interviews with many of the attending teams, with two having already gone live: one with Joakim "jkaem" Myrbostad of FaZe and one with Jonathan "EliGE" Jablonowski of Liquid.
As the magic dates of March 29-April 3 draw ever nearer, stay focused to our site for more exclusive coverage of the upcoming Major.
Source: stich HLTV.org