The first day of play at the MLG Columbus Major wrapped up tonight at the MLG Arena with every team in the competition playing their opener.
The first ever $1,000,000 CS:GO Major began with a best-of-one game between the 9th team on top rankings,NiP and the 16th one,FlipSid3.
Björn "THREAT" Pers, who is NiP's coach, replaced Jacob "pyth" Mourujärvi in the lineup as the latter had visa issues and could not enter USA. Ninjas in Pyjamas defeated FlipSid3 19-17 on de_cache.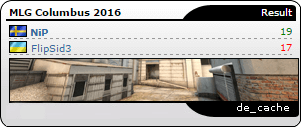 After the first game of day one at MLG Columbus saw NiP and FlipSid3 go head to head in an overtime battle, from which the former came out victorious. Luminosity have joined NiP in the winners' match of group A after another close game, as they passed their mousesports test 16-13 on de_mirage.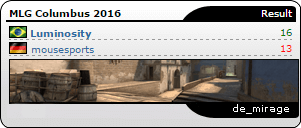 The first round of Group B at the MLG Columbus Major brought the first surprising result of the tournament as FaZe, semi-finalists at DreamHack Open Cluj-Napoca while under G2, fell short against Liquid. The North American side punished FaZe for their mistakes and did so thanks to a dominant display from Eric "adreN" Hoag, who is acting as a substitute for the team after being left out of the starting roster with Kenneth "koosta" Suen's signing. Team Liquid have pulled off the first upset at MLG Columbus after defeating FaZe 16-11 on de_cache.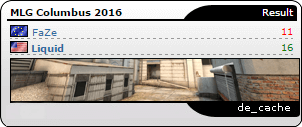 The second match of Group B saw the world's number one team fnatic go up against Splyce who surprisingly qualified for MLG Columbus 2016. Splyce started on the CT-side and gained a 5v3 advantage but fnatic closed out the pistol round and also picked up the following two rounds (3-0). Fnatic beating Splyce 16-5 on de_train to advance to the Group B winners' match against Liquid.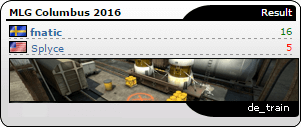 As MLG Columbus passed the first half of the day, it was time for EnVyUs and CLG in the first match of group C on Cobblestone.
The Frenchmen started off strong with a 3-0 after winning the pistol and a couple of anti-ecos, one of which ended up with Kenny "kennyS" Schrub clutching a 1-on-2. The first gunround went CLG's way however, as well as the following anti-forcebuy. A powerful defence towards the end meant CLG would go over with solid seven rounds, and soon they took the lead for the second time after winning the pistol, for 10-8. CLG have surprised EnVyUs with a strong 16-8 performance on Cobblestone in group C of MLG Columbus 2016.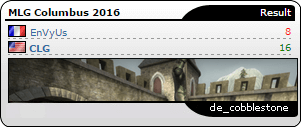 Starting out on the Terrorist side, Astralis picked up the opening round following a textbook B push, but they were caught off-guard in the first anti-eco round, in which Rustem "mou" Telepov managed to win a 1vs2 clutch. Gambit surprisingly held on strong and got out to a 5-1 lead, but then Astralis put their foot down to hold back the CIS side and closed out the half with a 9-6 lead. Astralis have advanced to the Upper Bracket final of Group C at MLG Columbus after moving past Gambit 16-10 on de_train.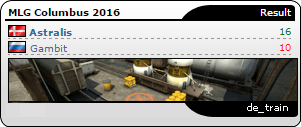 The map began with Cloud9 getting off to a flying start, taking a 6-0 lead on the CT side and putting Na`Vi in danger of getting blown out. The CIS team looked completely helpless during the opening stages and their players were not even hitting their shots, so it was with little surprise that they called a tactical pause to adjust their attack. Ladislav "GuardiaN" Kovács and Ioann "Edward" Sukhariev took matters into their own hands and rescued a round that appeared to be lost to give Na`Vi some much-needed breathing room. That round turned out to be the wake-up call that Na`Vi needed as they won seven of the following eight rounds to take an 8-7 half-time lead, with Cloud9 looking like a far cry from the side that had started the game so well. Natus Vincere beating Cloud9 16-9 on de_train.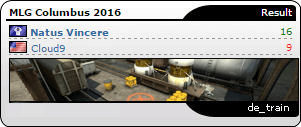 Virtus.pro have repaired the plow engines and destroyed G2 16-1 on Train to advance to the group D winners' match where they will meet Natus Vincere.
The teams vetoed their way to Train, where Virtus.pro started as Terrorists and got off to a quick 5-0 start after winning the pistol round, the first gunround and all anti-ecos throughout.
A 3-on-3 situation on the A bombsite went the Poles' way as well, before winning against another quasi-buy for 7-0. After switching up to a slower-paced play, Virtus.pro barely got the bomb down and destroyed their opposition on the A bombsite.
At that point G2 took a timeout and had a great start into the round, as Cédric "RpK" Guipouy pushed out alley for a double, however Virtus.pro came back from that as well to further the score to 9-0. Finally, another one of Guipouy's plays put his team on the board, but it was too little too late.
Janusz "Snax" Pogorzelski's clutch broke G2's money and his team simply plowed through the Frenchmen during the remainder of the half, leaving nothing but scorched earth behind at 14-1.
To add insult to injury, Pogorzelski denied Kévin "Ex6TenZ" Droolans a great attempt at a 1-on-3, when he danced around his opponent at the electric box to finish it off at 16-1 after a forcebuy on G2's side.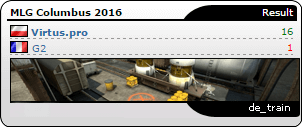 Today the competition returns with losers and winners matches of all groups.