Holiday Season never sounded so good.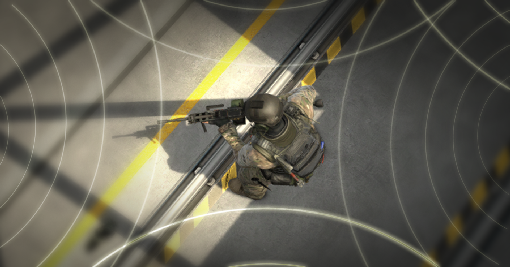 Today we're introducing a new audio feature designed to substantially improve positional audio in CS:GO. The game now uses HRTF (head-related transfer function) algorithms to enhance 360-degree vertical and horizontal sound positioning while using headphones.
The default Speaker Configuration in your Audio Settings has been set to "Headphones with HRTF," but if you'd like to turn HRTF off you can simply select any other speaker configuration.
In other news, we've made an adjustment to Steam Group lobbies, now labeled "Public Lobbies." In addition to your Steam Group Lobbies, the tab will show nearby public joinable lobbies. If you'd like to broadcast your lobby to nearby players, you can adjust permissions in your Play With Friends lobby.
Ready to try out the new audio settings? Give them the ultimate test on Nuke, where we've just shipped a wide range of optimizations and gameplay adjustments.
CSGO Updates: Release Notes for 7/12/2016
[Holidays]
– Deployed Holiday Cheer for your festive fragging season.
– You can spread the Holiday Cheer! Gifts are now available for a limited time.
[Sound]
– Added new audio option that enables Head-Related Transfer Function (HRTF) processing on in-game sounds. The goal is to vastly improve 360 degree vertical and horizontal sound positioning.
– By default, Speaker Configuration in Audio Settings has been set to "Headphones with HRTF." Selecting an alternative speaker configuration will disable HRTF.
– NOTE: For an optimal experience with HRTF, we recommend turning off any external 5.1 or 7.1 surround audio driver options.
[Public Lobbies]
– In the friends panel "Steam Groups" have been renamed to "Public Lobbies".
– The "Public Lobbies" tab now shows nearby public lobbies and suggested steam group lobbies in addition to your steam group lobbies.
– Lobbies now support broadcasting to nearby players. Players can use this setting for friend or steam group lobbies.
– Steam Group lobbies now display the country associated with the majority of lobby members.
[Gameplay]
– Third-person weapon angles now visibly match first-person weapon recoil.
[MISC]
– Fixed 5 Year Veteran Coin to be granted to accounts that cancelled and later reactivated their old Counter-Strike license after they restart their CS:GO client.
– Loading screen tokens can now be localized when loading Overwatch evidence or maps created by community members.
– Bot names can now be localized in game language.
– Added experimental plugin support for managing network channel encryption keys on community servers.
— https://developer.valvesoftware.com/wiki/Counter-Strike:_Global_Offensive_Network_Channel_Encryption
[Maps]
Nuke
– Removed railing on crane in A site rafters
– Removed ability to climb up on/plant the bomb on top of silos in both bombsites
– Moved T entrance to squeaky to make movement smoother
– Removed window in Toxic, replaced with double doors
– Removed yellow bollards near Garage and Secret
– Removed cover on top of Mini
– Added some full cover in cubby next to ramp in bombsite B
– Replaced exposed bombsite silo with simple version in bombsite A
– Fixed small collision bump on ramp in ramproom where players could get stuck
– Added white, flat surface on fence at T side of yard
– Fixed various bugs listed on CSGOBugtracker.com (thanks to all contributors!)
– General optimizations
Happy Holidays!