HellRaisers have been crowned Copenhagen Games champions after beating E-frag.net 2-0 in the grand final (25-23 on Inferno and 16-5 on Dust2).
Without a single Danish team left to fight for the title ,Copenhagen Games' final day began with the sole Scandinavian team remaining, Publiclir.se, taking on the new HellRaisers roster, which had acquitted itself well during the previous stages of the tournament.
Tomáš "oskar" Šťastný took center stage and led the charge for HellRaisers with a 1.50 rating, powering his team to a 2-0 victory following 16-12 and 16-10 wins on Dust2 and Cache, respectively.
The other semi-final was a Balkan derby between Space Soldiers and E-frag.net, two teams who had raised eyebrows the day before while defeating Danish opposition. Can "XANTARES" Dörtkardeş came huge for his team, but there was nothing he could do to stop E-frag from claiming a 2-0 victory, with Kamen "bubble" Kostadinov posting an impressive 1.61 rating in the series.
The grand final began with a keenly-contested game on inferno, where HellRaisers were able to take the victory only after a double overtime. The map that followed, Dust2, was the polar opposite, however, as the Slovakian team were in control from the start and secured a 16-5 victory after taking 11 rounds on the Terrorist side.
Well played eFrag!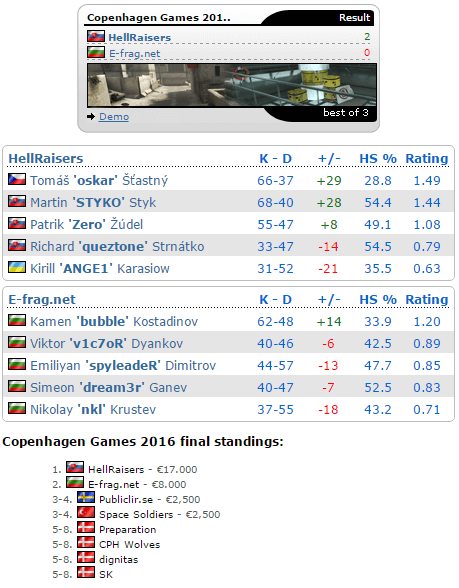 Source: HLTV.org