We won X-Bet.co Invitational 4
Earlier this evening we won X-Bet.co Invitational 4 without losing a single map, we managed to beat Epsilon 2:0 in the grand final (Mirage 16:11; Overpass 16:13). GG boys! Amazing games throughout the whole tournament!
Unfortunately, our second final match  for Thunderpick Invitational today ended 2: 0 in favor of GoldenGitte. Despite this loss the team is in perhaps the best form in the last few months. After more than a month with the new team, we have 13 wins and only one loss in all the tournaments we have participated in. We won several smaller tournaments and qualified for the grand final of the Gfinity Spring Series 2018 Europe.
X-Bet.co Invitational BPro statistics: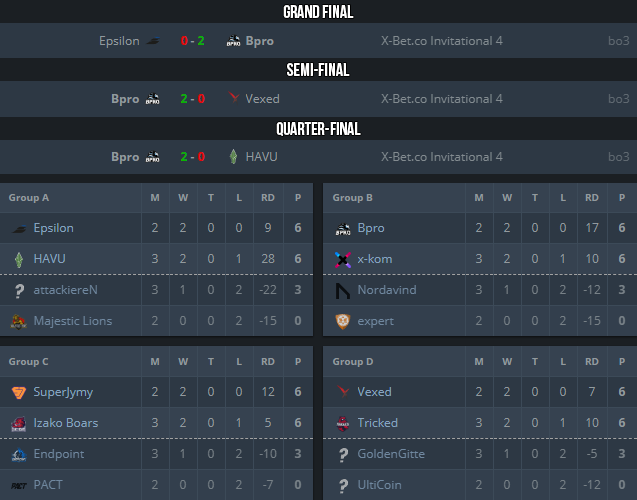 Prize distribution:
1. Bpro – $5,000
2. Epsilon – $2,000
3-4. Tricked/Vexed
Valentin 'poizon' Vasilev became the highest rated player (1.50) in the last week.
Passing players like fer (MIBR), mouz (Kinguin), s1mple (Natus Vincere) etc. Also heads the top spots in Damage diff per round and Kills per round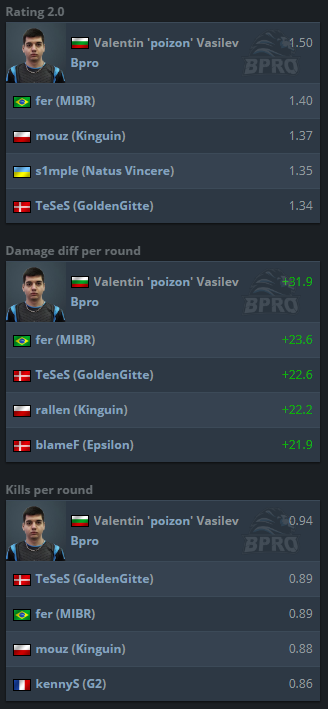 BPro lineup:
Valentin 'poizon' Vasilev
Nikolay 'niki1' Pantaleev
Ivan 'Rock1nG' Stratiev
Krasen 'Zix' Minchev
Emiliyan 'spyleadeR' Dimitrov