After two difficult wins last night, our team managed to qualify for ESEA Season 29 Europe Relegation.
Our team qualifies for ESEA MDL Season 29 after defeating Arena Bulls 2:0 (Cache 16:7, Overpass 16:6) in the quarterfinals. Immediately after winning the game, we had to play the semi-final as part of the tournament schedule. The team we faced in the semi-final was GUNRUNNERS, and the winner of this match advances to ESEA MDL Season 29 Europe Relegation.
After the comparatively easy first game, the semi-final proved to be far more difficult than expected. The game started on Dust 2 which was the GUNRUNNERS choice. Аfter the tough first half finished 10:5 in their favor we were able to fight back and win the map with score 16:12, losing only two rounds.
GUNRUNNER managed to recover from the loss of their map pick and did not hesitate to win ours. So the winner of the first semi-final had to be determined after the third map – Inferno. Luckily, this map is one of our best. So after winning the first halt with 11:4 we were a step closer to win the game.
Here's a little video from the first half of Inferno where our stand-in Denislav "dennyslaw" Dimitrov score an ace.
Winning the second pistol round in the match was more than enough to close the game with score 16:5. So with a total score of 2:1 maps, our team qualifies for the new ESEA MDL season. GGWP!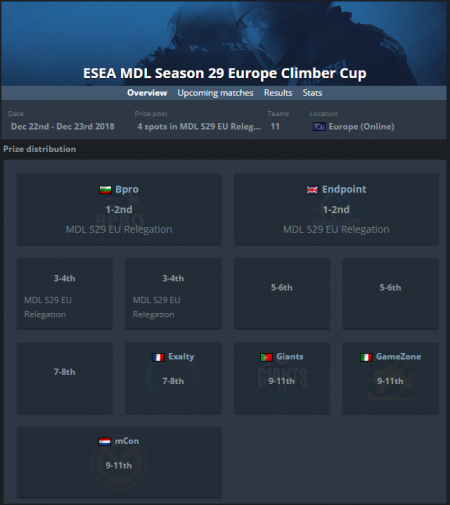 Despite all the changes in the team in recent months, we are still one of the best teams in the Balkans.
BPro lineup:
Nikolay 'niki1' Pantaleev
Ivan 'Rock1nG' Stratiev
Krasen 'Zix' Minchev
Nikola 'NK4Y' Radushev
Alex 'dubpower' Ivanov
Image: HLTV