Тeam Ranking: July 2016
We have updated our Global Team Ranking—powered by EGB.com—for July 2016.
The dust has finally settled on the top shelves of competitive CS:GO as all of the namebrand tournaments have concluded come the end of July. The month of August will see a fairly ubiquitous lull spread across the scene as teams will no doubt engage in roster changes and players will take their respective vacations.
It is also time for our monthly ranking update of CS:GO teams and this ranking should hold steady for quite some time, especially when considering the fact that August will not see many of the teams in the Top 20 have a chance to compete and/or improve their prospects.
July was the month of the two million dollar tournaments: the $1 million ESL One Cologne 2016 Major (CS:GO's ninth Major to date) and the $1.4 million ELEAGUE Season 1. In this sense, it was a fitting cap to a first half of the year, as the scene's biggest teams vied for dominance and previously unimaginable first place cheques.

Despite the ELEAGUE disqualification, SK hold the top spot convincingly
With the action having concluded, and with SK having won the ESL One Cologne Major and Virtus.pro taking home gold from ELEAGUE Season 1, we now have a complete ranking picture for the month of July.
To summarise the ranking for new readers:
Our team ranking is based on teams' achievements over the past year (with severe decay in points throughout each month), recent form over the last 2 months, and performance at offline events in the last 3 months.

Each team is required to have a three-man core in order to retain their points and online results are included but have minimal effect (only affecting 'Form') at the top of the table and mainly serve to put new teams on the map.
And we will always have a special page where you will be able to find the latest, weekly version of our ranking.
Here is the current top 30 table as of August 1st, 2016, which goes more in-depth into the way points are distributed. You can see the lineup for each team by hovering over their name in the table.
Please note that the +/- gain on this table differs from our weekly rankings page, and is in relation to the ranking update of June 2016.
Top 30 Team Ranking Powered by EGB.com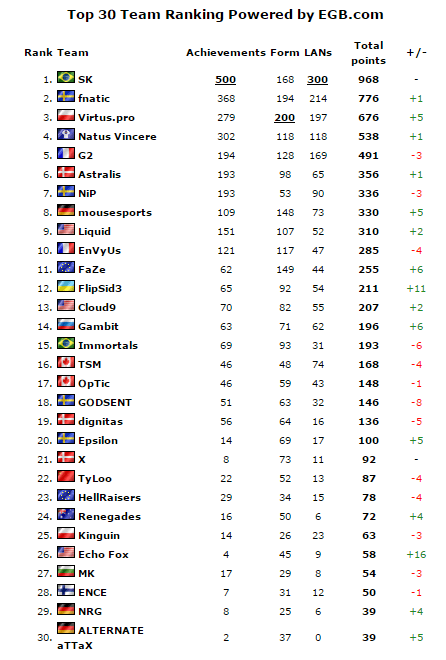 For more information about Today CS:GO News follow the links below